ESOL ENDORSEMENT EXPRESS
---
The Complete Fast Track Package from Schultz
---
Quality & Convenience
---
Florida educators often spend 1-2 years working to complete all five ESOL/ELL endorsement courses to get their ESOL endorsement. With ESOL Endorsement Express, Schultz is now offering Florida educators the opportunity to get their full ESOL/ELL endorsement in as little as 4.5 months!
This new offering from Schultz is designed to support teachers who would benefit from a structured, turnkey path to full endorsement in a short period. This allows you to save an immense amount of time while still gaining access to the same quality Fast Track endorsement courses at the same affordable rate of $285 per course.
Included with the ESOL Endorsement Express package are the five 60-hour, State of Florida mandated courses needed to complete the 300 hours ESOL/ELL Endorsement. They include:
Applied Linguistics
Cross-Cultural Communications
Methods of Teaching ESOL
Testing and Evaluation of ESOL
Curriculum and Materials Development
Explore
---
---
---
Courses

Register for a Course

Blackboard Login

District Endorsement Solutions

Early Learning Exchange

Student Voice (EVC+)

Digital Classrooms

Leadership

Access Course Certificate
Course Schedule
---
---
---
Enroll Now
---
All five courses are facilitated online via Blackboard but space for this initial ESOL Endorsement Express offering is limited.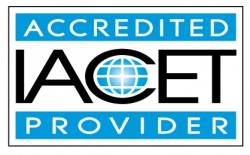 Schultz Center is accredited by the International Association for Continuing Education and Training (IACET) and is authorized to issue the IACET CEU.
Per section 1012.575, F.S., only school districts have statutory authority to have state approved add-on endorsement programs whereby teachers can complete the endorsement requirements via inservice points. All other (including non-public) school teachers can add an endorsement to their certificate, but only through the college credit route. Private school teachers may take the "endorsement" courses offered for inservice points, but they won't be able to use them to add the endorsement to their certificate.